Like every other country in the world, the fashion changed during the years. Malta is no exception, along the years locals changed their fashion habits and now everyone dress similar clothes to other European countries and follow global fashion trends.
Back in the days, cotton was the primary material used in making the clothes of peasants and country folk. Traditional Maltese clothes ranged from the humble attire of country folk to the lavish costumes of the more privileged classes.  An array of gentlemen's waistcoats, ladies' gowns and bodices, wedding dresses, bathing costumes, undergarments as well as Maltese traditional costumes were part of the Maltese fashion recipe.
Għonnella Malta
One very particular aspect of the traditional clothes in Malta is the Maltese "Faldetta" or as known with the locals as the "Għonnella". The għonnella, pronounced "on-nel-la" (pl. għenienel, pronounced "ee-nee-nel"), was a form of women's head dress and shawl, or hooded cloak, unique to the Mediterranean islands of Malta and Gozo. In the dialects of the south-east of Malta it was referred to as ċulqana while in the dialect of Għargħur it was referred to as stamijna.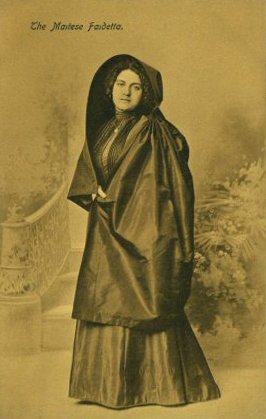 The Għonnella used to be held with just one hand and would cover only the head and not the face, as you can clearly see in the above picture.
Another thing that might be of your interest is the Maltese Traditional Wedding. From time to time some localities re-enact an old Maltese wedding. Here the visitors can have a look at some traditional clothes that the Maltese used to wear during such special occasions.
Today it's not easy to find Maltese people wearing such clothes. If you're lucky you might find some in traditional old villages, such as in Gozo. However you're more likely to see such beautiful and traditional costumes in local events rather than in real life. Such events could be showcase of traditional weddings. Have a look at this video which shows re-enactment of an old wedding from Malta!
Fashion in Malta, Today
Over the past half century, this little Mediterranean island, freshly self-determining after a long history of colonisation and dependence, achieved a great deal in the way of modernisation. Fashion is one of the things that the locals changed, due to various reasons, one of the main ones being Globalisation. While much of this may come as a surprise to some visitors, this transformation has not eliminated the core elements of Malta's cultural identity. Most locals today buy clothes online or else from one of the various shops around Malta.
Today visitors can enjoy authentic traditional Maltese clothes at the national collection of costumes and textiles at the Inquisitor's Palace in Vittoriosa.