There are plenty of reasons why many couples decide to get married in Malta; the happy couple framed with blue sky and perfect scenery is every wedding photographer's dream; sunshine, good food, contented guests, and great service make a very happy couple.
Wedding Venues
The choice of venue is vast and various. Malta is rich in historic settings; the bastions with breath-taking harbour views, ornate churches that date back hundreds of years, and baroque palaces with intricate designs. Almost guaranteed year round sunshine makes garden weddings a very popular choice, the shade of fruit trees and graceful lawns create a warm and welcoming atmosphere; the palm trees lend a touch of the exotic. Sunset on the beach is a laid back venue for couples that like to kick off their shoes and dance under the stars. And for the ultimate in five-star splendour, the numerous resorts dotted across the 3 islands will ensure that guests are lavished with luxury.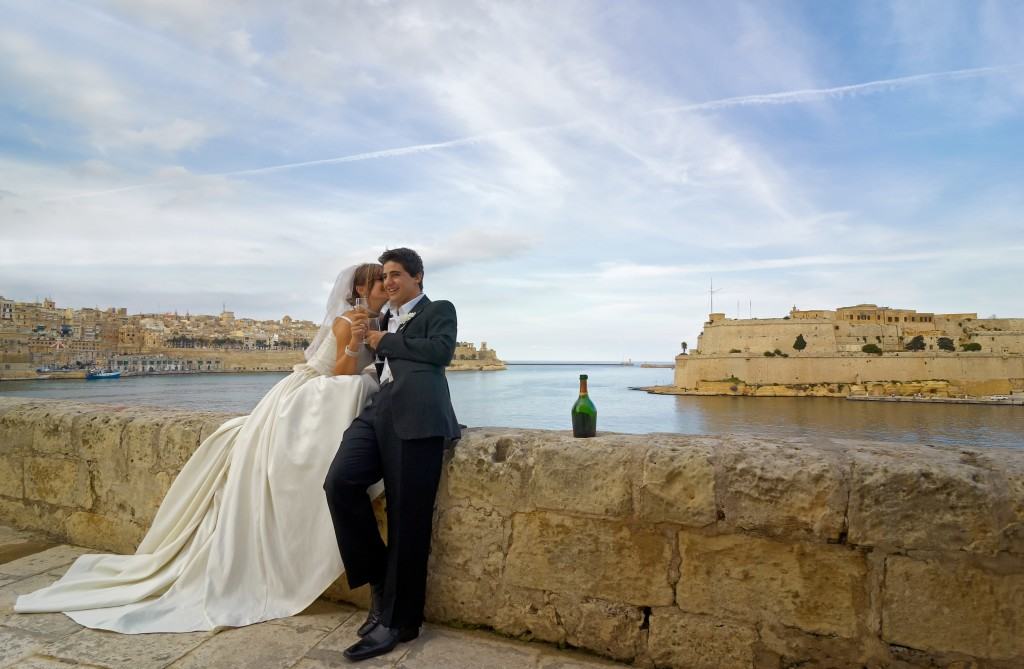 Wedding Catering
Maltese cuisine is food with flair. The island boasts top class chefs, not only highly skilled but also blessed with the finest and freshest ingredients on their doorsteps. Wedding caterers offer mouth-watering menus that blend traditional dishes with innovative creations; what was once a clichéd canapé is now Seafood Thermidor in Puff Pastry or Crispy Asparagus, pancetta & grana borek. Main courses of beef, chicken and fish can be flavoured with Asian spices, Mediterranean herbs, or South American chillies. Choose a themed meal or explore more exotic options, the possibilities for catering a wedding in Malta really is endless and rewarding.
Weddings Abroad
Taking the plunge into foreign wedding waters can often seem daunting to a newly engaged couple. The organisation can be stressful and a language barrier can make it virtually impossible to negotiate with venues and vendors. For an English speaking couple however, Malta's dual language status of English and Maltese is perhaps its jewel in the crown. Being in the middle of the Med, the locals tend to be fluent in Italian and the service industry is also focused on a multi-lingual work force and is able to offer amongst others; German, French and Nordic languages.
Weddings Planners
An experienced wedding planner can be worth their weight in gold, saving you time, money and possibly sanity. As an established destination for out of town weddings, and with an ever-flowing stream of local weddings, the catering companies in Malta have a wealth of experience and there are professionals dedicated to making sure every couple gets their dream wedding. Wedding planners are able to plan everything, from the wedding venue to the wedding cake.
Accessibility to the Island
Air Malta has daily flights to practically any destination in Europe and connections worldwide, making it easy to fly guests in and then fly honeymooners out. However, another bonus of having a wedding in Malta is that it's also a beautiful location for the blissful couple to enjoy a perfect honeymoon as soon as they tie the knot. The smaller islands of Gozo and Comino offer the ultimate in peaceful and private hideaways, and Malta has a treasure chest of history to offer sightseers.
Organise Your Dream Wedding in Malta!
If you decide to get married in Malta one can have a guarantee that there will be no regrets. The Maltese islands truly offer the complete package for couples who want their wedding to be uniquely theirs. The Maltese people are friendly and welcoming; they are fantastic hosts who will go the extra mile to keep their guests smiling. You will be able to find all kind of products and services from top notch catering to wedding videos using drones. The sunshine and blue sky will lend a warm, sunny glow to your special occasion, and hopefully the memories you make will stay fresh in your heart forever.