The Temple Period
The period preceding the early Neolithic period is that of the Temple period which dates from around 3800BC to 2500BC. One of the main attractions in Malta, the National Museum of  Archeology and it exhibits examples of architecture, human representation as well as other items from the Mġarr, Ġgantija, Saflieni and Tarxien phases of Maltese prehistory. During these phases temples were built and these temples are considered to be the world's first free standing monuments.
These temples were also known to have been built before other great monuments such as the Pyramids of Egypt and therefore this greater signifies the importance of such temples. In fact these temples are so important with regards to Malta's history and culture that seven of these Megalithic temples found on the Islands of Malta are now listed on the United Nations Educational Scientific Cultural Organisation (UNESCO) World Heritage list. These temples were built from the local limestone material, the temples feature monumental doorways leading to a complexity of internal spaces organised into repeating arrangements of semi-circular or horseshoe-shaped rooms in trefoil or multi-apsed configuration (Canberra Times, 2012). It has been suggested that the temples might have represented the head, arms and legs of a deity, since one of the commonest kinds of statue found in these temples is a 'fat' figure (Venus of Malta from Ħaġar Qim), a symbol of fertility (Bradshaw Foundation, n.d.).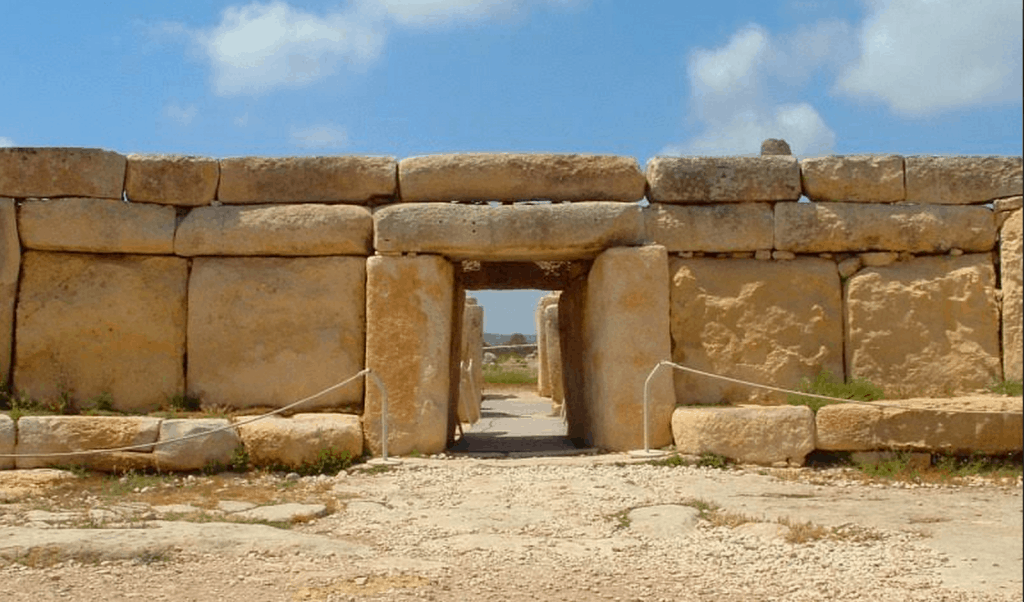 As no inscriptions were handed down and no written records were found, the question of what exactly went on in the temples can never be fully answered. Archaeologists tend to agree that in Neolithic times, the temples were at least partially, if not fully, roofed (Canberra Times, 2012). This especially can be seen at the Mnajdra temple where early examples of roofing structures can clearly be seen. 5000 years ago with only partial or dim lighting, the experience of being in these temples would have been quite different from today (Canberra Times, 2012).
Although as stated previously no official records indicate what the temples were used for, it can be assumed that these where of importance to the community present during this period. With great artistry the ancient Maltese created pots and figurines and decorated the temples with a series of motifs including spirals, pitting, trees, plants, animals, boats and fish – many recognisable from the Mediterranean area (Canberra Times, 2012). These temples, requiring extensive resources, were clearly an integral and religious element of the temple people culture (Bradshaw Foundation, n.d.). This aspect is further reinforced by the discovery of temple altars and corpulent human representations which indicate that some form of cult or ritual existed in Malta and Gozo during prehistory times. Given the corpulence of the statues it may be that the cult was tied to a fertility rite. Fertility at this time must have been very important since, apart from family growth, it also meant the reproduction of crops and animals (Sultana, 2006).
Only seven temples retain their original architecture and elaborate structuring of openings, enclosures, passageways and side niches. Perhaps the most famous ones are Mnajdra and Hagar Qim. All these temples will briefly be discussed as follows.
Ġgantija
It is the oldest temple and is situated in Gozo. Its name means the Giant's Place. Ġgantija consists of two temples of multi-foil plan. The southern temple, with its two elliptical cells, is the oldest whilst the northern temple, which is small in size, is more recent, although dates no later than 2200 BC (UNESCO World Heritage Centre, n.d.). This temple was built with hard chalky coralline and soft globigerina limestone and this combination makes it excellent testament of megalithic prehistoric art.
Mnajdra
Mnajdra is made of coralline limestone and cloverleaf plan of Mnajdra appears more regular. The prehistoric structure consists of three conjoined but not connected temples: the upper, middle and lower.
Ħaġar Qim
It is believed that out of all the temples Ħaġar Qim is considered the most impressive monument. The finesse that was used to join the stones can be compared with the precision employed in the Valley Temple, next to the Sphinx, at Giza (Egypt), where the builders equally carved out massive stones and placed them together but it is only the massive size of the stones that allows for such a comparison as other than that, both sites have their own unique design and decoration (Frontier Magazine, 1999).
Tarxien Temples
The Tarxien temples are less preserved than the other temples. The temples were constructed by people, and possess certain unique architectural features. The ways the ornaments have been carved out are also unique. However, they were removed from the site as further protection was needed. This temple has been the most excavated and documented upon in comparison with the other temples. Therefore, people are more knowledgeable about the use of this temple. Rituals use to take place at the temples.
Ta' Ħaġrat and  Skorba
It has been preserved the most out of all temples due to the trefoil plan that was set up at an early stage. Ta' Ħaġrat and Skorba offer information about the development of the temple period in Malta. Ħaġrat temples are found in Mġarr and are a part of the UNESCO World Heritage Site. Ħaġrat temples are one of the oldest religious sites. Skorba was built during roughly the same period as Ġgantija Temples. At the Skorba site, one can notice a paced entrance, a high coralline limestone slab, and a decorated step.